January 9, 2008
Sleepy Bear is Everywhere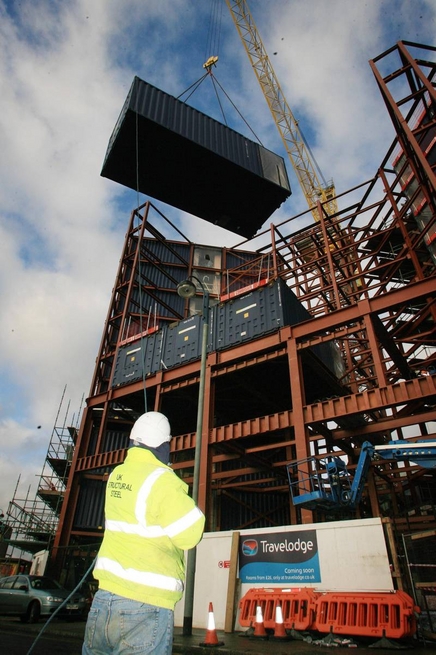 From the British publication Building (by way of the invaluable ArchNewsNow) comes the following report:
Travelodge has come up with a new type of modular construction – building hotels with modified shipping containers.

Each container is fitted into the steel frame of the building, bolted together and stacked up to eight stories. The containers are modified in China then shipped to the UK.

Once the building is cladded and the modules fitted and decorated, the budget hotel chain claims it will look and feel no different to an ordinary Travelodge.
Shipping containers, as you know, have become fashionable in recent years. A number of architects, most notably Adam Kalkin, have used them as the basis of low cost experimental structures. It's not just that they're a sturdy, readily available cast-off of the global economy, it's also that they have a distinctive look. Indeed, the photos of the Travel Lodge under construction show a grid of black steel boxes fitted into a steel superstructure; it's a powerful expression of post-industrial style. However, the end product is designed to conceal the modular system within. It will look and feel no different to an ordinary Travelodge. It's your basic, banal piece of corporate park architecture (see below). According to the article, Travelodge plans to build 670 of these hotels in the UK, Ireland and Spain by 2020. Clearly, Sleepy Bear cares nothing for shipping container chic; for him the container is simply a tool for rapid, inexpensive growth.